Volume 1
Volume 2
Volume 3
Hot Start PCR
(Protocol summary only for purposes of this preview site)
Mispairing of primers, which occurs at suboptimal annealing temperatures, leads to the synthesis of nonspecific PCR products. Off-target amplification can become a serious problem when PCRs are performed with low concentrations of a complex template, such as mammalian genomic DNA template (Chou et al. 1992). In reactions of this type, the possibility for mispriming is increased by the elevated ratio of primer:template DNA.

Save 30% & Get Free Shipping!*
Save 30% at checkout on our website.
(Limited time special offer.)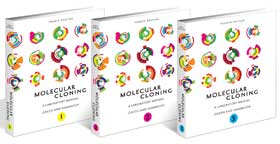 Search for information about other protocols included in the book:
Read What Others Are Saying About Molecular Cloning:
* Free shipping to individuals in U.S. and Canada only