Volume 1
Volume 2
Volume 3
Methylation-Specific PCR for Gene-Specific DNA Methylation Detection
(Protocol summary only for purposes of this preview site)
Methylation-specific PCR (MS-PCR) was developed by Herman et al. (1996), who, in their original study, used this method to analyze the methylation status of four tumor-suppressor genes: p16, p15, E-cadherin, and VHL. MS-PCR requires two pairs of primer sets, one each for amplification of unmethylated and methylated regions, respectively. MS-PCR primer design is discussed in the information panel Designing Primers for the Amplification of Bisulfite-Converted Product to Perform Bisulfite Sequencing and MS-PCR. Because sequencing is unnecessary, the method provides only a relative difference in the CpG density within a genomic region, rather than the single-nucleotide resolution of CpG methylation that can be achieved using bisulfite sequencing (Protocol 1). MS-PCR is a more rapid way to detect changes in DNA methylation than is bisulfite sequencing. In addition, by incorporating some basic automation, samples can be prepared and analyzed in a 96-well plate format. The method can be used either quantitatively (qRT-PCR-based MethyLight) (Eads et al. 2000) or qualitatively (using agarose gels) to detect changes in DNA methylation; both are described in this protocol. A flowchart outlining the major steps in the MS-PCR protocol is shown in Figure 1. Commercial kits can be used for certain MS-PCR steps; some of these kits are described in Table 1.

Save 30% & Get Free Shipping!*
Save 30% at checkout on our website.
(Limited time special offer.)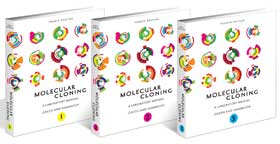 Search for information about other protocols included in the book:
Read What Others Are Saying About Molecular Cloning:
* Free shipping to individuals in U.S. and Canada only