Volume 1
Volume 2
Volume 3
Rapid Amplification of Sequences from the 5 Ends of mRNAs: 5-RACE
(Protocol summary only for purposes of this preview site)
Isolating a full-length clone of cDNA provides certainty that the entire protein-coding sequence of the mRNA has been identified and allows the 5 end of the mRNA to be precisely mapped onto the genomic DNA sequence. Unfortunately, partial clones that lack sequences corresponding to the 5 end of the target mRNA occur commonly in cDNA libraries. Truncated clones of this type are thought to arise when reverse transcriptase fails to extend the first strand of cDNA along the full length of the mRNA template. The longer the starting mRNA and the higher its content of secondary structure, the greater is the risk of isolating an incomplete cDNA clone. Before the advent of PCR, the investigator's best hope of rectifying the situation was to rescreen the cDNA library in greater depth in the hope of fastening onto a full-length clone. In many instances, however, the consequence was further frustration and redoubled disappointment. The only course then open was to generate and screen additional cDNA libraries. In the late 1980s, however, a better solution was found when Frohman et al. (1988) described a general PCR procedure to amplify to 5-terminal sequences of cDNA. This technique differs from conventional PCR in that it only requires knowledge of a small region of sequence within either the target RNA or in a partial clone of cDNA (see Fig. 1). In Step A of 5-RACE, extension of the primer by reverse transcriptase yields single-stranded cDNAs complementary to the 5 regions of the mRNA. In Step B, a homopolymeric tail or a primer-adaptor is added to the 3 ends of the cDNAs. This generates a primer-binding site upstream of the unknown 5-sequence of the target mRNA. In Step C, synthesis of the second cDNA strand and amplification of the resulting double-stranded cDNAs is performed using the gene-specific primer and the upstream primer. The double-stranded products of Step C are purified and cloned into a vector for sequencing analysis and subsequent manipulation.

Save 30% & Get Free Shipping!*
Save 30% at checkout on our website.
(Limited time special offer.)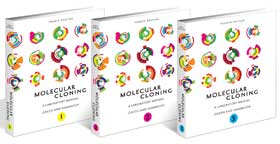 Search for information about other protocols included in the book:
Read What Others Are Saying About Molecular Cloning:
* Free shipping to individuals in U.S. and Canada only