Volume 1
Volume 2
Volume 3
Rapid Amplification of Sequences from the 3 Ends of mRNAs: 3-RACE
(Protocol summary only for purposes of this preview site)
cDNAs whose first-strand synthesis has been primed by oligo(dT) generally contain the 3 sequences of the RNA. However, cDNAs generated by internal gene-specific primers will usually lack one or both terminal regions of the parental mRNA. And alternate splicing or the presence of an internal A-rich tract can generate cDNA clones that lack 3 sequences. These sequences can be recovered using 3-RACE (Frohman 1993; Scotto-Lavino 2006b), which can also be used to map the 3 termini of families of mRNAs with alternative polyadenylation sites.

Save 30% & Get Free Shipping!*
Save 30% at checkout on our website.
(Limited time special offer.)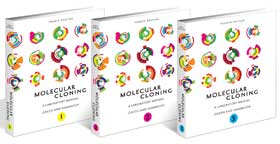 Search for information about other protocols included in the book:
Read What Others Are Saying About Molecular Cloning:
* Free shipping to individuals in U.S. and Canada only