Volume 1
Volume 2
Volume 3
Saturation Mutagenesis by Codon Cassette Insertion
(Protocol summary only for purposes of this preview site)
Saturation mutagenesis by cassette insertion introduces a library of site-specific changes into a specific DNA sequence within a target gene and is especially useful for analyzing the effect of specific residues on the structure and function of a protein. In general, cassette insertion mutagenesis involves excising a target region by restriction enzyme cleavage at two flanking sites and inserting a custom oligonucleotide containing the desired mutation in place of the excised fragment. This approach is effective for generating a single substitution at a single site, but it is not practical if the goal is to generate a library of mutants containing all possible amino acid substitutions at a single site because of the costs involved in synthesizing a complete canon of oligonucleotides.

Save 30% & Get Free Shipping!*
Save 30% at checkout on our website.
(Limited time special offer.)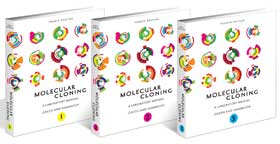 Search for information about other protocols included in the book:
Read What Others Are Saying About Molecular Cloning:
* Free shipping to individuals in U.S. and Canada only