Volume 1
Volume 2
Volume 3
Imaging: Autoradiography and Phosphorimaging
(Protocol summary only for purposes of this preview site)
Many of the commonly used techniques in molecular cloning depend on methods to map accurately the distribution of radioactive atoms on two-dimensional (2D) surfaces. Without this ability, methods such as Southern blotting, northern hybridizations, radiolabeled DNA sequencing, and library screening would not have been possible. In the 1970s and 1980sthe pioneering days of molecular cloningimaging of 2D surfaces was obtained using autoradiography. In this technique, -particles emitted by radioactive specimens were recorded on X-ray film, producing a latent image that can be converted to a true image by developing and fixing the film.

Save 30% & Get Free Shipping!*
Save 30% at checkout on our website.
(Limited time special offer.)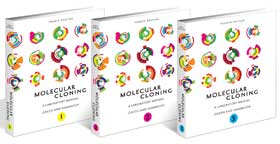 Search for information about other protocols included in the book:
Read What Others Are Saying About Molecular Cloning:
* Free shipping to individuals in U.S. and Canada only