Volume 1
Volume 2
Volume 3
Separation of RNA according to Size: Electrophoresis of RNA through Agarose Gels Containing Formaldehyde
(Protocol summary only for purposes of this preview site)
Samples of RNA may be denatured by treatment with formamide and separated by electrophoresis through agarose gels containing formaldehyde. In this method, adapted from Lehrach et al. (1977), Goldberg (1980), Seed (1982), and Rosen et al. (1990), RNA is fractionated by electrophoresis through an agarose gel containing 2.2 M formaldehyde. For additional information, see the box Agarose Formaldehyde Gels.

Save 30% & Get Free Shipping!*
Save 30% at checkout on our website.
(Limited time special offer.)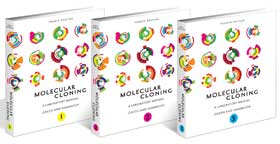 Search for information about other protocols included in the book:
Read What Others Are Saying About Molecular Cloning:
* Free shipping to individuals in U.S. and Canada only