Volume 1
Volume 2
Volume 3
Preparation and Verification of the Recombinant Shuttle Vector
(Protocol summary only for purposes of this preview site)
Plasmid DNA is prepared from the recombinant shuttle vector pLD53.SCAB/A-B created in Protocol 6. To confirm that the A-box and B-box arms have been successfully incorporated into pLD53.SCAB, the pattern of enzyme digestion of the modified plasmid is compared with that of the unmodified pLD53.SCAB. Once the shuttle vector is shown to carry the proper sequences, it is ready for transfer into the BAC host (Protocol 8).

Save 30% & Get Free Shipping!*
Save 30% at checkout on our website.
(Limited time special offer.)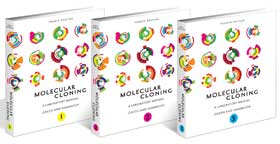 Search for information about other protocols included in the book:
Read What Others Are Saying About Molecular Cloning:
* Free shipping to individuals in U.S. and Canada only