Volume 1
Volume 2
Volume 3
Random Priming: Labeling of DNA by Extension of Random Oligonucleotides in the Presence of Melted Agarose
(Protocol summary only for purposes of this preview site)
A variation of the method described in Protocol 1 can be used to radiolabel DNA in slices cut from gels cast with low-melting-temperature agarose (Feinberg and Vogelstein 1983, 1984). Most of the materials required for this protocol are the same as those used in Protocol 1. However, the labeling buffer has been slightly modified to include unlabeled dNTPs and random oligonucleotide primers. According to the investigator's needs, the labeling reaction can be assembled from its individual components, as described in Protocol 1, or from the composite buffer, as described here. For additional details concerning materials required for the method and the specific activity and length of the generated probe, see the introduction to Protocol 1.

Save 30% & Get Free Shipping!*
Save 30% at checkout on our website.
(Limited time special offer.)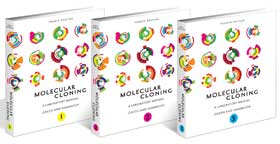 Search for information about other protocols included in the book:
Read What Others Are Saying About Molecular Cloning:
* Free shipping to individuals in U.S. and Canada only