Volume 1
Volume 2
Volume 3
Purification of rAAV2s by Heparin Column Affinity Chromatography
(Protocol summary only for purposes of this preview site)
This protocol describes a simple single-step column purification (SSCP) of rAAV2 by gravity flow based on its affinity to heparin, without ultracentrifugation. This method reproducibly yields preparations of AAV2 vectors with high titers, infectivity, and purity (Auricchio et al. 2001).

Save 30% & Get Free Shipping!*
Save 30% at checkout on our website.
(Limited time special offer.)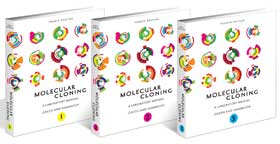 Search for information about other protocols included in the book:
Read What Others Are Saying About Molecular Cloning:
* Free shipping to individuals in U.S. and Canada only