Volume 1
Volume 2
Volume 3
Attaching Phosphorylated Adaptors/Linkers to Blunt-Ended DNAs
(Protocol summary only for purposes of this preview site)
Adaptors and linkers are attached to the end of DNA fragments to facilitate their insertion into plasmid vectors for cloning and expression. To achieve maximal efficiency of ligation of adaptors, the termini of the target DNA are first polished with T4 DNA polymerase (see the information panels Adaptors and Linkers).

Save 30% & Get Free Shipping!*
Save 30% at checkout on our website.
(Limited time special offer.)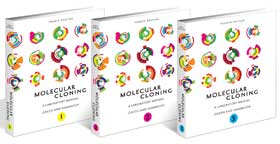 Search for information about other protocols included in the book:
Read What Others Are Saying About Molecular Cloning:
* Free shipping to individuals in U.S. and Canada only