Volume 1
Volume 2
Volume 3
Analysis of rAAV Purity Using Silver-Stained SDS-PAGE
(Protocol summary only for purposes of this preview site)
AAV virions are built from three major capsid proteins, VP1, VP2, and VP3, at a ratio of 1:1:18. On a silver-stained SDSpolyacrylamide gel, VP1, VP2, and VP3 should be the only visible bands in a highly purified rAAV preparation, migrating at approximately 87, 73, and 62 kDa, respectively. Silver-stained SDS-PAGE analysis of rAAV preparations aims to scrutinize the test vectors for purity and reveal whether any other cellular or transgene protein contaminants are present. Nonetheless, this method cannot differentiate empty virions from fully packaged virions, which can be best accomplished by examination by electron microscopy of negative-stained virus samples (see Protocol 14).

Save 30% & Get Free Shipping!*
Save 30% at checkout on our website.
(Limited time special offer.)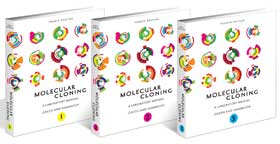 Search for information about other protocols included in the book:
Read What Others Are Saying About Molecular Cloning:
* Free shipping to individuals in U.S. and Canada only