Volume 1
Volume 2
Volume 3
High-Efficiency Yeast Transformation
(Protocol summary only for purposes of this preview site)
High-efficiency yeast transformation is used for integrations into YM4271 (Y1H DNA-bait generation), for transforming libraries of AD-prey clones into Y1H and Y2H bait strains, and for gap repair. Although this is a robust and dependable transformation protocol, occasionally transformation efficiency may be poor. Should that occur, refer to the Troubleshooting sections in this protocol and Protocol 3 for assistance. The protocol takes 2 d to complete.

Save 30% & Get Free Shipping!*
Save 30% at checkout on our website.
(Limited time special offer.)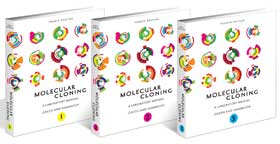 Search for information about other protocols included in the book:
Read What Others Are Saying About Molecular Cloning:
* Free shipping to individuals in U.S. and Canada only