Volume 1
Volume 2
Volume 3
Easy Transformation of E. coli: Nanoparticle-Mediated Transformation
(Protocol summary only for purposes of this preview site)
During the past 10 years, Yoshida's group in Miyazaki has published a series of papers confirming and extending the observation by Appel et al. (1988) that transformation of E. coli by plasmids can be accomplished using mineral nanofibers (Yoshida et al. 2001, 2002, 2007; Yoshida and Sato 2009 [and references therein]). A colloidal solution containing mineral nanofibers is mixed with E. coli and plasmid DNA and plated immediately on the appropriate selective plates. Sliding frictional forces, created when the bacteria are spread with a polystyrene stir stick (Sarstedt, Germany) across the surface of the agar, may result in penetration of the bacteria by the mineral fibers with its adherent cargo of DNA. The number of transformants increases during the first 60 sec of exposure to the mineral fiber:DNA complex and then reaches a plateau of 1 106 to 2 106 transformants/milligrams of DNA.

Save 30% & Get Free Shipping!*
Save 30% at checkout on our website.
(Limited time special offer.)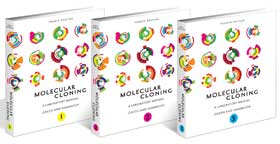 Search for information about other protocols included in the book:
Read What Others Are Saying About Molecular Cloning:
* Free shipping to individuals in U.S. and Canada only