Volume 1
Volume 2
Volume 3
Southern Hybridization of Radiolabeled Probes to Nucleic Acids Immobilized on Membranes
(Protocol summary only for purposes of this preview site)
The goal of Southern hybridization is to detect a target DNA sequence in a mixture of DNA fragments. Success with the method depends on the availability of a probe whose sequence is unique to and specific for the target. Finding a probe with these properties is straightforward when the complexity of the starting DNA is low, repetitive elements are few in number, and the nucleotide sequence of the target is unique. In such cases, manual methods can be used to select suitable probes. However, when the genetic complexity of the starting DNA is large and/or its sequence is complexas is the case, for example, with mammalian genomic DNAit is best to use a genome browser to select a target sequence. A BLAST tool is used to search the starting genome and to identify a sequence unique to the target with no significant homology to other loci of the starting DNA. Perseverance is sometimes required to identify probes with no ability to cross-hybridize to homologous DNA sequences that may be present in the starting DNA. An alternative method is to use a bioinformatics pipeline to automatically design probes with high discriminating power that are predicted to perform better than those identified manually (see, e.g., Croning et al. 2010).

Save 30% & Get Free Shipping!*
Save 30% at checkout on our website.
(Limited time special offer.)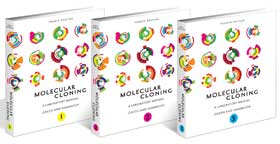 Search for information about other protocols included in the book:
Read What Others Are Saying About Molecular Cloning:
* Free shipping to individuals in U.S. and Canada only