Volume 1
Volume 2
Volume 3
Cloning PCR Products: Addition of Restriction Sites to the Termini of Amplified DNA
(Protocol summary only for purposes of this preview site)
If the two primers used in a PCR carry different restriction sites, amplification generates a target fragment that can be cloned directionally in a vector with compatible termini (Scharf et al. 1986; Kaufman and Evans 1990). The purified fragment and the vector are digested in separate reactions with the appropriate restriction enzymes, ligated together and used to transform E. coli. This method works with all types of PCR products, including those that are blunt-ended PCR products and those that carry nontemplated nucleotides at their 3 ends.

Save 30% & Get Free Shipping!*
Save 30% at checkout on our website.
(Limited time special offer.)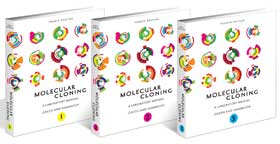 Search for information about other protocols included in the book:
Read What Others Are Saying About Molecular Cloning:
* Free shipping to individuals in U.S. and Canada only