Volume 1
Volume 2
Volume 3
Cloning in Plasmid Vectors: Blunt-End Cloning
(Protocol summary only for purposes of this preview site)
To obtain the maximum number of correct ligation products when cloning blunt-ended target fragments, the two components of DNA in the ligation reaction must be present at an appropriate ratio. If the molar ratio of plasmid vector to target DNA is too high, then the ligation reaction may generate an undesirable number of circular empty plasmids, both monomeric and polymeric; if too low, the ligation reaction may generate an excess of linear and circular homopolymers and heteropolymers of varying sizes, orientations, and compositions. For this reason, the orientation of the foreign DNA and the number of inserts in each recombinant clone must always be validated by restriction endonuclease mapping or some other means. As a general rule, acceptable yields of monomeric circular recombinants can be obtained from ligation reactions containing equimolar amounts of plasmid and target DNAs, with the total DNA concentration <100 g/mL (Bercovich et al. 1992).

Save 30% & Get Free Shipping!*
Save 30% at checkout on our website.
(Limited time special offer.)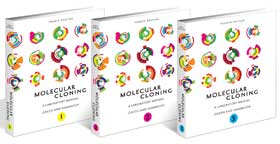 Search for information about other protocols included in the book:
Read What Others Are Saying About Molecular Cloning:
* Free shipping to individuals in U.S. and Canada only