Volume 1
Volume 2
Volume 3
In Vitro Mutagenesis Using Double-Stranded DNA Templates: Selection of Mutants with DpnI
(Protocol summary only for purposes of this preview site)
In both this protocol and Protocol 5, two oligonucleotides are used to prime DNA synthesis by a high-fidelity polymerase on a denatured plasmid template. The two oligonucleotides both contain the desired mutation and have the same starting and ending positions on opposite strands of the plasmid DNA. In this protocol, the entire lengths of both strands of the plasmid DNA are amplified in a linear fashion during several rounds of thermal cycling, generating a mutated plasmid containing staggered nicks on opposite strands (see Fig. 1) (Hemsley et al. 1989).

Save 30% & Get Free Shipping!*
Save 30% at checkout on our website.
(Limited time special offer.)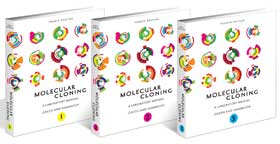 Search for information about other protocols included in the book:
Read What Others Are Saying About Molecular Cloning:
* Free shipping to individuals in U.S. and Canada only