Volume 1
Volume 2
Volume 3
Yeast Colony PCR
(Protocol summary only for purposes of this preview site)
Yeast colony PCR is used to amplify fragments from the yeast genome as well as transformed plasmids. Here it is used to verify that the correct DNA-bait is upstream of both reporters when preparing integrant strains in Protocol 1, to verify the identity of yeast transformed with DB-bait constructs in Protocol 2, and to amplify the inserts from interacting library clones during gap-repair retesting. This protocol takes 2 d to complete.

Save 30% & Get Free Shipping!*
Save 30% at checkout on our website.
(Limited time special offer.)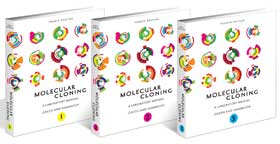 Search for information about other protocols included in the book:
Read What Others Are Saying About Molecular Cloning:
* Free shipping to individuals in U.S. and Canada only