Volume 1
Volume 2
Volume 3
UV Cross-Linking of Live Cells and Lysate Preparation
(Protocol summary only for purposes of this preview site)
One of the great advantages of CLIP is that RNAprotein complexes can be frozen in situ in live cells by UV irradiation. This protocol describes UV cross-linking of mammalian tissue culture cells or whole tissues. For the latter, the tissue is typically triturated to allow UV penetration. However, depending on the thickness of the chosen tissue, this may not be necessary. It is preferable to handle the tissue as little as possible, to keep it in ice-cold buffers, and to cross-link as soon after the time of collection as is feasible to preserve native interactions at the time of cross-linking.

Save 30% & Get Free Shipping!*
Save 30% at checkout on our website.
(Limited time special offer.)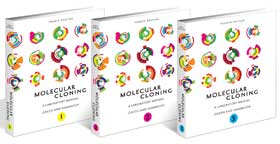 Search for information about other protocols included in the book:
Read What Others Are Saying About Molecular Cloning:
* Free shipping to individuals in U.S. and Canada only