Volume 1
Volume 2
Volume 3
Quantification of RNA by Real-Time RT-PCR
(Protocol summary only for purposes of this preview site)
The following protocol describes a real-time RT-PCR assay, using the two-enzyme, two-tube approach (see the section selecting the Enzyme(s) in the chapter introduction), carried out using either SYBR Green I or TaqMan chemistries. The protocol uses a PCR, volume of 20 L (although most manufacturers recommend 50-L reactions). However, if the PCR target is not very abundant (i.e., present at one to 10 copies per sample), a larger volume may yield better reproducibility between samples. For additional information on preparing high-quality RNA, choosing a priming method, and selecting an endogenous reference gene, see the section Performing Real-Time PCR in the chapter introduction.

Save 30% & Get Free Shipping!*
Save 30% at checkout on our website.
(Limited time special offer.)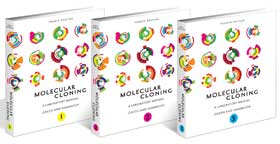 Search for information about other protocols included in the book:
Read What Others Are Saying About Molecular Cloning:
* Free shipping to individuals in U.S. and Canada only