Volume 1
Volume 2
Volume 3
Preparation of Small-Fragment Libraries for 454 Sequencing
(Protocol summary only for purposes of this preview site)
This protocol describes preparation of libraries of small DNA fragments for use in sequencing on the 454 Sequencing System (FLX or XLR). Fragmented genomic DNA is purified and ligated to adaptor sequences, then immobilized on specialized beads. The library consists of a set of single-stranded DNA fragments representing the complete span of the target DNA. After quality assessment and quantitation, the single-stranded library is ready for amplification by emPCR as described in Protocol 16.

Save 30% & Get Free Shipping!*
Save 30% at checkout on our website.
(Limited time special offer.)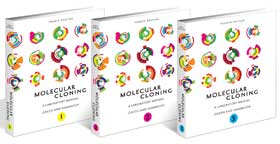 Search for information about other protocols included in the book:
Read What Others Are Saying About Molecular Cloning:
* Free shipping to individuals in U.S. and Canada only