Volume 1
Volume 2
Volume 3
Phosphorylation of DNA Molecules with Dephosphorylated Blunt Ends or Recessed 5 Termini
(Protocol summary only for purposes of this preview site)
DNA substrates with blunt ends, recessed 5 termini, or internal nicks are labeled less efficiently in the forward reaction catalyzed by T4 polynucleotide kinase than are protruding 5 termini of dsDNA. For example, the incorporation of phosphate residues at internal nicks in DNA is 30-fold less efficient than transfer to 5 termini (Lillehaug et al. 1976; Berkner and Folk 1977). However, the difficulty of labeling such substrates can be overcome by (1) increasing the concentration of ATP to astronomical levels (>100 M) (Lillehaug and Kleppe 1975a) or (2) including polyamines or polyethylene glycol 8000 (PEG 8000) in the reaction (Lillehaug and Kleppe 1975b; Harrison and Zimmerman 1986a). In the presence of PEG and magnesium, DNA collapses into a highly condensed state (Lerman 1971). The increased efficiency of the subsequent phosphorylation reaction is thought to be a consequence of the resulting macromolecular crowding (Harrison and Zimmerman 1986b; for review, see Zimmerman and Minton 1993). The amount of stimulation is crucially dependent on the concentration of PEG. It may therefore be useful to test the efficiency of the reaction in concentrations of PEG between 4 and 10. The beneficial effects of PEG only become apparent when using DNAs longer than 300 bp. Smaller fragments of DNA are probably too rigid to collapse into a condensed state. For additional information on labeling DNA with T4 polynucleotide kinase, see the box Labeling the 5 Termini of DNA with Bacteriophage T4 Polynucleotide Kinase, in the introduction to Protocol 10. For a summary of methods used to label the termini of DNA, see Table 1 of Protocol 8.

Save 30% & Get Free Shipping!*
Save 30% at checkout on our website.
(Limited time special offer.)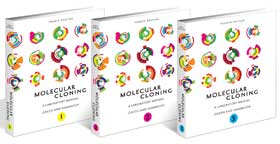 Search for information about other protocols included in the book:
Read What Others Are Saying About Molecular Cloning:
* Free shipping to individuals in U.S. and Canada only