Volume 1
Volume 2
Volume 3
Optimization of Immunoprecipitation Stringency for CLIP
(Protocol summary only for purposes of this preview site)
This protocol is designed to help optimize purification of the RNABP by immunoprecipitation for CLIP experiments. The key variables to assess are the quality and quantity of antibody needed to immunoprecipitate most but not quite all of the RNABP (the titration will decrease nonspecific binding), and the tolerance of the antibody:antigen interaction to stringent wash conditions. The results of these experiments can be checked first by western blot, and subsequently using the pilot CLIP protocol (described as part of Protocol 3). Note that these are quite different assayswhereas the immunoprecipitation may appear clean by western blot, a contaminating labeled RNA product cross-linked to an irrelevant RNA-binding protein, not visible by western blotting, may be evident by autoradiography in the pilot CLIP protocol. Hence, the western blot is primarily useful for determining what percentage of the RNABP is immunoprecipitated and retained on the beads after washing using different protocols, whereas the pilot CLIP experiment evaluates the purity of RNA cross-linked to the RNABP of interest as compared with controls. Once these pilot experiments are completed, the optimal immunoprecipitation conditions should be incorporated into the general CLIP protocol including the steps of cross-linking, RNase digestion, linker ligation, and labeling of RNA tags, and the results analyzed by autoradiography, as discussed in Protocols 3 and 4.

Save 30% & Get Free Shipping!*
Save 30% at checkout on our website.
(Limited time special offer.)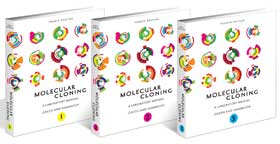 Search for information about other protocols included in the book:
Read What Others Are Saying About Molecular Cloning:
* Free shipping to individuals in U.S. and Canada only