Volume 1
Volume 2
Volume 3
Analysis of Cell Viability by the alamarBlue Assay
(Protocol summary only for purposes of this preview site)
The water-soluble dye alamarBlue (which is the registered product name for the chemical resazurin [see the box Resazurin]) has been used for quantifying in vitro viability of multiple cell types (Fields and Lancaster 1993; Ahmed et al. 1994). Because the reagent is extremely stable and nontoxic, it can be used to continuously monitor cells over time (Ahmed et al. 1994). It is mainly for this reason that the alamarBlue assay is considered superior to classical tests for cell viability, such as the MTT test (Protocol 8). In a comparative study of cell viability after exposure to each of 117 different toxic molecules, the alamarBlue assay was slightly more sensitive than the MTT assay for most compounds (Hamid et al. 2004).

Save 30% & Get Free Shipping!*
Save 30% at checkout on our website.
(Limited time special offer.)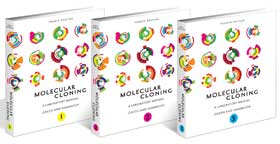 Search for information about other protocols included in the book:
Read What Others Are Saying About Molecular Cloning:
* Free shipping to individuals in U.S. and Canada only