Volume 1
Volume 2
Volume 3
Preparing Plasmid Subclones for Capillary Sequencing
(Protocol summary only for purposes of this preview site)
This protocol describes the preparation of plasmid DNA from bacterial cultures or from archived cultures, based on the standard miniprep method (see Chapter 1, Protocol 1). The resulting DNA is suitable in quantity and quality for use as template in capillary DNA sequencing as described in Protocol 3. An alternative method for preparing template is the amplification of a targeted region of DNA, described in Protocol 2. The protocol relies on the use of the Biomek automated liquid handling system.

Save 30% & Get Free Shipping!*
Save 30% at checkout on our website.
(Limited time special offer.)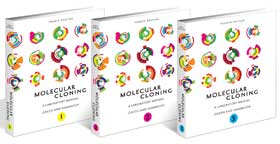 Search for information about other protocols included in the book:
Read What Others Are Saying About Molecular Cloning:
* Free shipping to individuals in U.S. and Canada only