Volume 1
Volume 2
Volume 3
Precipitation of RNA with Ethanol
(Protocol summary only for purposes of this preview site)
Purified RNA may need to be concentrated by precipitation for downstream applications. Precipitation of RNA with ethanol (or isopropanol) is the standard method to recover RNA from aqueous solutions (for a discussion on the principles of ethanol precipitation, see Chapter 1, Protocol 4). RNA is efficiently precipitated from solutions containing 0.8 M LiCl, 0.5 M ammonium acetate, or 0.3 M sodium acetate. The choice among these salts is determined by the way in which the RNA will be used later. Because the potassium salt of dodecyl sulfate is extremely insoluble, avoid potassium acetate if the precipitated RNA is to be dissolved in buffers that contain SDS (which is sometimes used for storing RNA because it inhibits ribonucleases). For the same reason, avoid potassium acetate if the RNA is already dissolved in a buffer containing SDS. Avoid LiCl when the RNA is to be used for cell-free translation or reverse transcription, as LiCl ions inhibit initiation of protein synthesis in most cell-free systems and suppress the activity of RNA-dependent DNA polymerase.

Save 30% & Get Free Shipping!*
Save 30% at checkout on our website.
(Limited time special offer.)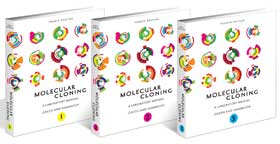 Search for information about other protocols included in the book:
Read What Others Are Saying About Molecular Cloning:
* Free shipping to individuals in U.S. and Canada only