Volume 1
Volume 2
Volume 3
Generating an ORF Entry Clone and Destination Clone
(Protocol summary only for purposes of this preview site)
Here, we describe how to create an Entry clone carrying an ORF (Fig. 2 in the chapter introduction) and then to transfer the ORF into a Destination vector (Fig. 3 in the chapter introduction). In this example, BP recombination is used to clone an ORF from a cDNA source into the Donor vector pDONR 221. The ORF from the resulting Entry clone is then transferred into the Destination vector pDEST-15; the product (the Destination clone) will express the ORF as an amino-terminal GST-fusion. The technique can be used as a guide for cloning any other DNA fragment of interesta promoter sequence or 3 UTR, for examplewith substitutions of different genetic material such as genomic DNA, att sites, and vectors as required. The series of constructions and transformations requires 915 d, not including time that may be required for sequence confirmation, if desired/necessary.

Save 30% & Get Free Shipping!*
Save 30% at checkout on our website.
(Limited time special offer.)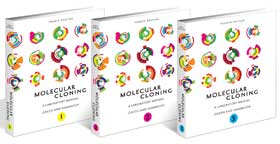 Search for information about other protocols included in the book:
Read What Others Are Saying About Molecular Cloning:
* Free shipping to individuals in U.S. and Canada only