Volume 1
Volume 2
Volume 3
Expression of Cloned Genes Using the Baculovirus Expression System
(Protocol summary only for purposes of this preview site)
Almost all baculovirus expression systems use the procedures for insect cell transfection, baculovirus production, and protein expression given in the main portion of this protocol. Before transfection, standard molecular biology methods are used to place a target gene under control of a viral promoter carried in an E. coli vector. This construct is then transferred into the DNA of a baculovirus vector by homologous recombination. Although the major downstream steps remain the same, a variety of strategies are available for achieving recombination between the transfer vector and the viral DNA. As outlined in the introduction to this chapter, these approaches range from cotransfection to recombination in E. coli hosts or in vitro.

Save 30% & Get Free Shipping!*
Save 30% at checkout on our website.
(Limited time special offer.)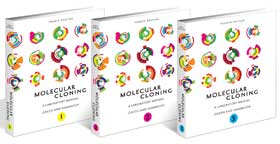 Search for information about other protocols included in the book:
Read What Others Are Saying About Molecular Cloning:
* Free shipping to individuals in U.S. and Canada only