Volume 1
Volume 2
Volume 3
Quantifying DNA in Solution with PicoGreen
(Protocol summary only for purposes of this preview site)
Unlike Hoechst-based assays, assays using a single concentration of PicoGreen are linear over four orders of magnitude in DNA concentrations, from 1 ng/mL to 1 g/mL. The assay is most quickly and easily performed using a handheld fluorometer.

Save 30% & Get Free Shipping!*
Save 30% at checkout on our website.
(Limited time special offer.)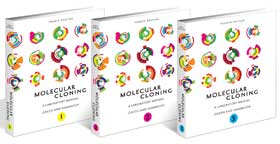 Search for information about other protocols included in the book:
Read What Others Are Saying About Molecular Cloning:
* Free shipping to individuals in U.S. and Canada only