Volume 1
Volume 2
Volume 3
Library Quantification Using SYBR Green-qPCR
(Protocol summary only for purposes of this preview site)
To quantify complex DNA libraries, Kapa Biosystems has engineered a DNA polymerase specifically for SYBR Greenbased qPCR, enabling efficient amplification of targets such as GC-rich DNAs that present a challenge to wild-type DNA polymerases (see the introductory section in Chapter 1 for a discussion of SYBR Green). Kapa Library Quantification Kits contain this engineered polymerase to ensure robust amplification of longer fragments, across a broad range of GC content.

Save 30% & Get Free Shipping!*
Save 30% at checkout on our website.
(Limited time special offer.)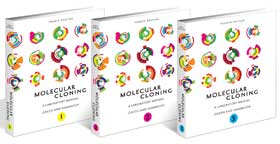 Search for information about other protocols included in the book:
Read What Others Are Saying About Molecular Cloning:
* Free shipping to individuals in U.S. and Canada only