Volume 1
Volume 2
Volume 3
Using ELISA to Measure GFP Production
(Protocol summary only for purposes of this preview site)
As a reporter, green fluorescent protein (GFP) has primarily been used to visualize the expression of transfected genes and to track proteins fused to GFP. The use of fluorescence intensity as a measure of the abundance of GFP protein is not a sensitive procedure because of the short linear relationship between GFP concentration and its fluorescence intensity. But the availability of specific antibodies with high binding capacity to GFP now permits the development of assays for measuring GFP levels accurately, even at picomolar quantities. For a detailed description of the molecular characteristics of GFP and related fluorescent proteins, see the information panel Fluorescent Proteins.

Save 30% & Get Free Shipping!*
Save 30% at checkout on our website.
(Limited time special offer.)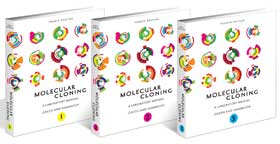 Search for information about other protocols included in the book:
Read What Others Are Saying About Molecular Cloning:
* Free shipping to individuals in U.S. and Canada only