Volume 1
Volume 2
Volume 3
Roche/454 Sequencer: Executing a Sequencing Run
(Protocol summary only for purposes of this preview site)
This protocol describes (1) the preliminary steps for preparing the clonally amplified enriched sstDNA library (from Protocol 16) for the prewash run and (2) preparation of the PicoTiter Plate devices, in preparation for the sequencing run. Instructions for performing the run are provided, based on the use of the 454 Life Sciences Titanium XLR Sequencing System. Note, however, that the preparatory steps for library construction (Protocol 15) and for emPCR (Protocol 16) also are suitable for use with the 454 FLX sequencerthe differences lie in the numbers of incorporation cycles, hence the read-length. If the FLX system is better suited for the intended purpose, then proceed according to manufacturer's instructions for that instrument.

Save 30% & Get Free Shipping!*
Save 30% at checkout on our website.
(Limited time special offer.)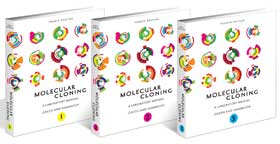 Search for information about other protocols included in the book:
Read What Others Are Saying About Molecular Cloning:
* Free shipping to individuals in U.S. and Canada only