Volume 1
Volume 2
Volume 3
5C Analysis of 3C, ChIP-loop, and Control Libraries
(Protocol summary only for purposes of this preview site)
This protocol describes the 5C method of detecting ligation products in 3C, ChIP-loop, or control libraries. The method starts with a purified 3C library (as generated using Protocol 7), a purified ChIP-loop library (see Protocol 8), or a purified control library (see Protocol 9). Before starting the protocol, assess the quality of the library that will be used by performing semiquantitative PCR as described in Protocol 10. Ligation products should be readily detectable and nearby restriction fragments should be ligated more frequently than distant fragments. The design of the 5C primers and methods to determine interaction frequencies are Described in the Discussion section of this protocol.

Save 30% & Get Free Shipping!*
Save 30% at checkout on our website.
(Limited time special offer.)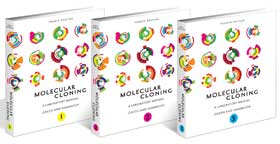 Search for information about other protocols included in the book:
Read What Others Are Saying About Molecular Cloning:
* Free shipping to individuals in U.S. and Canada only