Volume 1
Volume 2
Volume 3
RNase Titration, Immunoprecipitation, and SDS-PAGE
(Protocol summary only for purposes of this preview site)
The CLIP protocol continues using cross-linked RNABP:RNA complexes from mixed lysates or cell pellets (Protocol 2). The material is treated with RNase to partially hydrolyze the bound RNA, and the complexes are immunoprecipitated using conditions optimized in Protocol 1. 3 Linkers are added, the RNA is radiolabeled, and the complexes are purified on SDS-PAGE.

Save 30% & Get Free Shipping!*
Save 30% at checkout on our website.
(Limited time special offer.)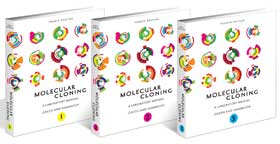 Search for information about other protocols included in the book:
Read What Others Are Saying About Molecular Cloning:
* Free shipping to individuals in U.S. and Canada only