Volume 1
Volume 2
Volume 3
Analysis of RNA by Primer Extension
(Protocol summary only for purposes of this preview site)
For mapping the 5 termini of mRNA molecules, primer extension is the method of choice. A purified oligonucleotide is end-labeled using polynucleotide kinase. The probe and a population of mRNA are allowed to hybridize, and the primers and template are used to carry out reverse transcription using an enzyme cloned from the Moloney murine leukemia virus. The primer extension products are separated on a denaturing polyacrylamide gel and analyzed by radiography. For additional details on primer extension assays, see the Introduction to Mapping RNA Molecules (specifically the sections Primer Extension and Optimizing Primer Extension Reactions) preceding Protocol 16.

Save 30% & Get Free Shipping!*
Save 30% at checkout on our website.
(Limited time special offer.)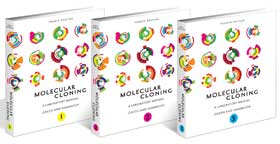 Search for information about other protocols included in the book:
Read What Others Are Saying About Molecular Cloning:
* Free shipping to individuals in U.S. and Canada only