Volume 1
Volume 2
Volume 3
Detection of DNA in Polyacrylamide Gels by Autoradiography
(Protocol summary only for purposes of this preview site)
Bands of radioactive DNA separated by acrylamide gel electrophoresis may be detected by autoradiography. Analytical polyacrylamide gels containing radioactive DNA are usually fixed and dried before autoradiography. However, if bands of radioactive DNA are to be recovered from the gel, the gel should generally not be fixed or dried. In this case, omit Steps 13 and proceed directly to Step 4 to process the gel for autoradiography.

Save 30% & Get Free Shipping!*
Save 30% at checkout on our website.
(Limited time special offer.)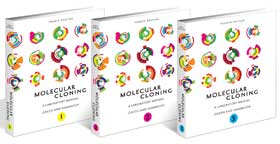 Search for information about other protocols included in the book:
Read What Others Are Saying About Molecular Cloning:
* Free shipping to individuals in U.S. and Canada only