Volume 1
Volume 2
Volume 3
Purification of Labeled Oligonucleotides by Size-Exclusion Chromatography
(Protocol summary only for purposes of this preview site)
When labeled oligonucleotides are to be used in enzymatic reactions such as primer extension, virtually all of the unincorporated label must be removed from the oligonucleotide. For this purpose, chromatographic methods (this protocol and Protocol 17) or gel electrophoresis (essentially as described in Chapter 2, Protocol 3) are superior to differential precipitation of the oligonucleotide with ethanol or cetylpyridinium bromide (CPB). This protocol describes a method to separate labeled oligonucleotides from unincorporated label that takes advantage of differences in mobility between oligonucleotides and mononucleotides during size-exclusion chromatography. It should be noted that several companies (e.g., Biosearch Technologies, Dionex, Roche Molecular Biochemicals) offer ready-to-use spin columns that provide a rapid and simple method for the purification of unincoporated nucleotides from labeling reactions.

Save 30% & Get Free Shipping!*
Save 30% at checkout on our website.
(Limited time special offer.)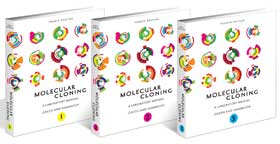 Search for information about other protocols included in the book:
Read What Others Are Saying About Molecular Cloning:
* Free shipping to individuals in U.S. and Canada only