Volume 1
Volume 2
Volume 3
Discovering cis-Regulatory Motifs
(Protocol summary only for purposes of this preview site)
This protocol describes a suite of tools for motif finding, using cis-regulatory motifs as an example. The first part of this protocol demonstrates the use of MEME (Bailey et al. 2006) (ab initio motif discovery), JASPAR (Portales-Casamar et al. 2010) (a motif database), Clover (Frith et al. 2004) (searching for enriched known motifs), and MAST (Bailey and Gribskov 1998) (scanning a sequence for motif sites) on a set of computationally predicted CREB-binding sequences downloaded from the UCSC Table Browser. The second part of the protocol shows how to use MEME-ChIP (Machanick and Bailey 2011), an integrated suite of tools for analyzing ChIP-seq data, to discover motifs in STAT1 ChIP-seq peaks and compare them with known motifs in the JASPAR database.

Save 30% & Get Free Shipping!*
Save 30% at checkout on our website.
(Limited time special offer.)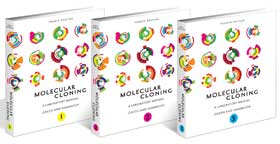 Search for information about other protocols included in the book:
Read What Others Are Saying About Molecular Cloning:
* Free shipping to individuals in U.S. and Canada only