Volume 1
Volume 2
Volume 3
Optimizing Primer and Probe Concentrations for Use in Real-Time PCR
(Protocol summary only for purposes of this preview site)
Once primers and probes have been designed and obtained (see the chapter introduction), it is necessary to optimize their concentrations for each real-time PCR assay. A set of PCRs is assembled in which the concentrations of forward and reverse primers are independently varied. Following amplification of the template DNA, amplification plots are compared. A standard curve is generated (Protocol 2) to determine the efficiency, sensitivity, and reproducibility of the assay. If SYBR Green I is used as the probe, then the melting curves are also analyzed.

Save 30% & Get Free Shipping!*
Save 30% at checkout on our website.
(Limited time special offer.)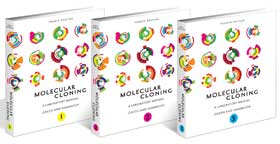 Search for information about other protocols included in the book:
Read What Others Are Saying About Molecular Cloning:
* Free shipping to individuals in U.S. and Canada only