Volume 1
Volume 2
Volume 3
Roche 454 Clonal Sequencing of Bisulfite-Converted DNA Libraries
(Protocol summary only for purposes of this preview site)
The Roche 454 sequencing technology uses emulsion PCR to amplify clonally single DNA molecules bound to 28-m beads, which are then deposited into picoliter-scale wells for pyrosequencing (for further discussion, see Chapter 11,introduction and Protocols 15 and 17). During each sequencing cycle, the addition of nucleotides complementary to the template strand results in a chemiluminescent signal recorded by the CCD camera of the Genome Sequencer FLX Instrument. The advantage of this platform is the read length, which is typically in the range of 300800 bp. However, this platform has a greater error rate than other platforms for sequencing of homopolymer regions and is more expensive than other competing platforms. DNA sequencing reads generated by the Roche 454 platform are used for interrogating DNA methylation status over the entire length of CpG islands, often revealing long patterns of variation in methylation that may contain allele-specific information. To achieve near whole-genome coverage, bioinformatics analysis of any fully sequenced mammalian genome can be used to generate reduced representation libraries through judicious selection of restriction endonucleases.

Save 30% & Get Free Shipping!*
Save 30% at checkout on our website.
(Limited time special offer.)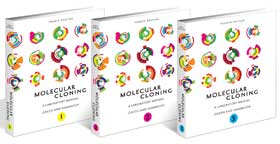 Search for information about other protocols included in the book:
Read What Others Are Saying About Molecular Cloning:
* Free shipping to individuals in U.S. and Canada only