Volume 1
Volume 2
Volume 3
Examination of BAC DNA Quality and Quantity by Pulsed-Field Gel Electrophoresis
(Protocol summary only for purposes of this preview site)
Pulsed-field gel electrophoresis (PFGE) is the preferred method to measure the size of an insert in a high-capacity vector. After digestion with a restriction enzyme (e.g., PI-SceI or NotI), the DNA fragments are separated by pulsed-field electrophoresis through a 1 agarose gel. Transverse alternating-field electrophoresis (TAFE) resolves DNA fragments between 50 kb and 500 kb in a program in which switch times are ramped from 7 to 50 sec/pulse at 9 V/cm for 2024 h at 15C (Shizuya et al. 1992). Alternatively, a CHEF hexagonal array system can be used with switch times ramping from 1 to 150 sec/pulse at 9 V/cm for 20 h at 15C (Zimmer and Verrinder Gibbins 1997).

Save 30% & Get Free Shipping!*
Save 30% at checkout on our website.
(Limited time special offer.)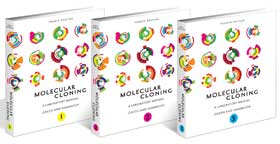 Search for information about other protocols included in the book:
Read What Others Are Saying About Molecular Cloning:
* Free shipping to individuals in U.S. and Canada only