Volume 1
Volume 2
Volume 3
Precipitation of DNA with Ethanol
(Protocol summary only for purposes of this preview site)
DNA can be precipitated out of solution for the removal of salts and/or for resuspension in an alternative buffer. Either ethanol or isopropanol can be used to achieve this purpose; however, the use of ethanol is generally preferred (see the Discussion at the end of this protocol and the introduction to Protocol 5). Cations, provided as salts, are typically included to neutralize the negative charge of the DNA phosphate backbone. A listing of these with their respective stock and working concentrations is given in Table 1. The following method describes ethanol precipitation of DNA in microcentrifuge tubes.

Save 30% & Get Free Shipping!*
Save 30% at checkout on our website.
(Limited time special offer.)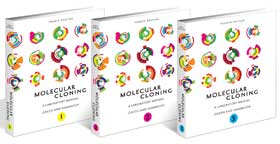 Search for information about other protocols included in the book:
Read What Others Are Saying About Molecular Cloning:
* Free shipping to individuals in U.S. and Canada only