Volume 1
Volume 2
Volume 3
Whole Genome: Automated, Indexed Library Preparation
(Protocol summary only for purposes of this preview site)
This protocol describes an automated procedure for constructing an indexed Illumina DNA library. With this method, genomic DNA fragments are produced by sonication, using high-frequency acoustic energy to shear DNA. Double-stranded DNA (dsDNA) will fragment when exposed to the energy of Adaptive Focused Acoustic Shearing (AFA; see the information panel Fragmenting of DNA). The resulting DNA fragments are ligated to adaptors, amplified by PCR, and subjected to size selection using magnetic beads. The product is suitable for use as template in whole-genome sequencing.

Save 30% & Get Free Shipping!*
Save 30% at checkout on our website.
(Limited time special offer.)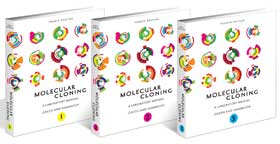 Search for information about other protocols included in the book:
Read What Others Are Saying About Molecular Cloning:
* Free shipping to individuals in U.S. and Canada only