Volume 1
Volume 2
Volume 3
Separation of RNA according to Size: Electrophoresis of RNA through Denaturing Urea Polyacrylamide Gels
(Protocol summary only for purposes of this preview site)
Thin (0.41.5 mm) polyacrylamide-urea gels provide high resolution of RNAs up to 1000 nucleotides in size and are capable of resolving single-stranded fragments of RNA that differ in length by as little as 1 nucleotide. Polyacrylamide gels are chemically cross-linked by the polymerization of acrylamide with a cross-linking agent, usually N,N-methylene bisacrylamide. The polymerization initiates by free radical formation usually carried out using ammonium persulfate as the initiator and N,N,N,N-tetramethylene diamine (TEMED) as the catalyst (Chrambach and Rodbard 1972). The presence of the denaturant urea in the gel prevents the formation of secondary structure and ensures that the RNA molecules migrate through the gel as linear species.

Save 30% & Get Free Shipping!*
Save 30% at checkout on our website.
(Limited time special offer.)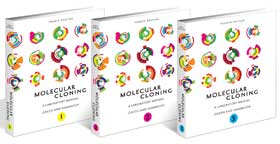 Search for information about other protocols included in the book:
Read What Others Are Saying About Molecular Cloning:
* Free shipping to individuals in U.S. and Canada only