Volume 1
Volume 2
Volume 3
Transfer and Fixation of Denatured RNA in Agarose Gels to Membranes
(Protocol summary only for purposes of this preview site)
In most cases, fractionation of RNA by agarose gel electrophoresis is but a prelude to hybridization of the fractionated population to specific labeled probes that detect particular target mRNAs. RNA is first transferred from an agarose gel to a 2D support, usually a nylon membrane.

Save 30% & Get Free Shipping!*
Save 30% at checkout on our website.
(Limited time special offer.)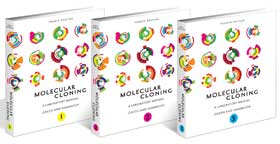 Search for information about other protocols included in the book:
Read What Others Are Saying About Molecular Cloning:
* Free shipping to individuals in U.S. and Canada only