Volume 1
Volume 2
Volume 3
Isolation of High-Molecular-Weight DNA Using Organic Solvents to Purify DNA
(Protocol summary only for purposes of this preview site)
Perhaps the most basic of all procedures in molecular cloning is the purification of nucleic acids. The key step, the removal of proteins, can often be performed simply by extracting aqueous solutions of nucleic acids with phenol:chloroform and chloroform. Such extractions efficiently inactivate and remove enzymes that are used in one step of a cloning operation before proceeding to the next. However, additional measures are required when nucleic acids are purified from complex mixtures of molecules such as cell lysates. In these cases, it is usual to remove most of the protein by digestion with proteolytic enzymes such as Pronase or proteinase K (Table 1), which are active against a broad spectrum of native proteins, before extracting with organic solvents.

Save 30% & Get Free Shipping!*
Save 30% at checkout on our website.
(Limited time special offer.)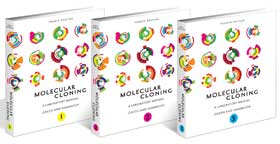 Search for information about other protocols included in the book:
Read What Others Are Saying About Molecular Cloning:
* Free shipping to individuals in U.S. and Canada only