Volume 1
Volume 2
Volume 3
Constructing a Standard Curve
(Protocol summary only for purposes of this preview site)
It is essential to prepare a standard curve for every real-time PCR experiment (see the chapter introduction). This protocol is used to construct a standard curve in which the template concentration is unknown. Such a standard curve is suitable for optimization experiments and for performing relative quantification by the standard curve method. To construct a standard curve for absolute quantification, the same principles apply as those presented here, but the concentration of the standards must be determined by an independent method, typically A260 absorbance or one of the dye-based methods for DNA, see the section Introduction to Quantifying DNA and the information panel Spectrophotometry, both in Chapter 1; for RNA, see Chapter 6, Protocol 6. Plasmid DNA and in vitrotranscribed RNA are commonly used to prepare absolute standards. For A260 absorbance, it is important that the DNA or RNA standards be a single, pure species. For example, plasmid DNA prepared from Escherichia coli is often contaminated with RNA, which increases the A260 measurement and would consequently inflate the copy number determined for the plasmid. Plasmid DNA or in vitrotranscribed RNA must be concentrated in order to measure an accurate A260 value. This concentrated DNA or RNA must then be diluted 100-fold to 1000-fold to be at a concentration similar to the target in biological samples. Finally, it is generally not possible to use DNA as a standard for absolute quantitation of RNA because there is no control for the efficiency of the reverse transcription step.

Save 30% & Get Free Shipping!*
Save 30% at checkout on our website.
(Limited time special offer.)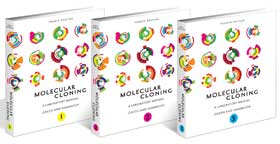 Search for information about other protocols included in the book:
Read What Others Are Saying About Molecular Cloning:
* Free shipping to individuals in U.S. and Canada only