Volume 1
Volume 2
Volume 3
ChIP
(Protocol summary only for purposes of this preview site)
ChIP is a powerful method for analyzing proteinDNA interactions that occur in vivo. A basic protocol involves immunoprecipitation of the cross-linked nucleoprotein complex and isolating and analyzing the DNA that is associated with the protein of interest. Immunoprecipitation and wash conditions can be optimized for the antibody used to increase the specific enrichment. Additionally, chromatin can be partially denatured with urea to make the antigenic epitope more accessible to the antibody before the immunoprecipitation step. Many advances have been made to this basic protocol, including modifications to reduce the amount of cells required (carrier ChIP [O'Neill et al. 2006]) and to investigate co-occupancy by sequential ChIP (or re-ChIP). When first attempting the protocol, it is worthwhile to perform the entire procedure with a well-characterized antibody, such as TAF1 (a component of a general transcription factor TFIID) or antibodies against modified histones such as trimethylated lysine residue 4 on histone H3 (H3K4me3).

Save 30% & Get Free Shipping!*
Save 30% at checkout on our website.
(Limited time special offer.)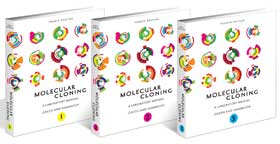 Search for information about other protocols included in the book:
Read What Others Are Saying About Molecular Cloning:
* Free shipping to individuals in U.S. and Canada only