Volume 1
Volume 2
Volume 3
Total RNA Extraction from Saccharomyces cerevisiae Using Hot Acid Phenol
(Protocol summary only for purposes of this preview site)
Isolation of RNA from yeast is complicated by the need to first break the thick, rigid cell wall; chaotropic reagents that are normally used to lyse mammalian cells are not as effective for cracking yeast cells open. Instead, methods for extracting total RNA from S. cerevisiae typically rely on one of two basic approaches: vortexing with glass beads or using hot acid equilibrated with phenol. In the first approach, the yeast cell suspension is mixed with small (400 m diameter) glass beads and vigorously vortexed, followed by RNA extraction using phenol:chloroform at room temperature. Although this method is feasible for handling a few samples, the tedious vortexing step makes it impractical when dealing with a large number of samples. Moreover, this method generates low yields when scaled down to small (<10 mL) cultures (Sherman et al. 1983). The hot acid phenol technique is the method of choice for isolation of total RNA because it is simple, can be used with multiple samples, and yields a high quality and quantity of RNA that is sufficiently free of contaminating genomic DNA for use in most downstream applications. In general, both of these methods are effective when isolating RNA from log-phase cells. Protocols for isolating RNA from yeast cells in stationary phase or various stages of ethanolic fermentation have also been described (Amin-ul Mannan et al. 2009).

Save 30% & Get Free Shipping!*
Save 30% at checkout on our website.
(Limited time special offer.)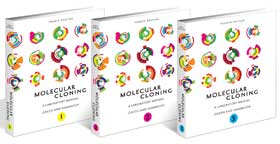 Search for information about other protocols included in the book:
Read What Others Are Saying About Molecular Cloning:
* Free shipping to individuals in U.S. and Canada only